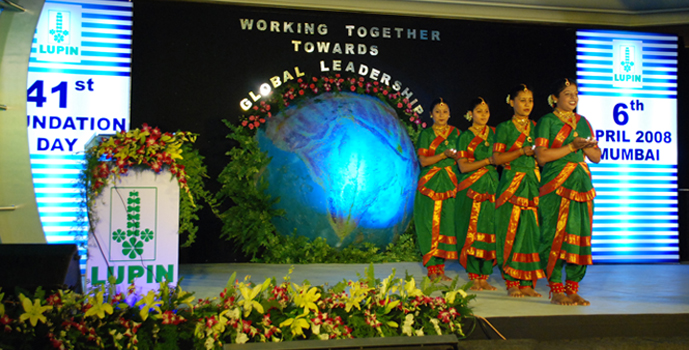 Corporate Annual Day Organizer In Mumbai
Lupin Limited. 41st Foundation Day. A wonderful event involving the employees of the company.
Celebrate the joy of working, teamwork and collective success with corporate annual day organizer. We make your Corporate Annual Day events memorable with inspiring ideas, perfect arrangements and strong employer branding.
Everyone loves to be acknowledged for their work.
Celebrating success builds a company's culture as one that realizes the effort employees put into making it happen. It allows employees to relax, have fun, and know they are valued. There's nothing quite like having fun moments to bring an office together.
There should always be something for people to enjoy and make the party an unforgettable one.
The benefits of a well-executed Annual Day are numerous. Higher morale, fun, the pride of place, party, a chance to mingle, make new friends are just a few of the many benefits.
Everyone wants to feel appreciated, and a company event is a great way to celebrate the successes of individual employees, teams, and the company.
PHOTOS
VIDEOS
Annual Day Organizer in Mumbai
Lighthouse Event & Entertainment Management Company In Mumbai is know as a best player in Corporate Annual Day Organizer in Mumbai. We are known establishment who acts as a one stop destination for School Annual Day Organizer in Mumbai servicing and delivering our prestigious clients at local and many other parts of Mumbai.
At the point when every one of the representatives working in an organization get together for an Annual Day it is no not exactly a celebration and we at as a yearly day occasion coordinators in Mumbai have the correct apparatuses to make the festival.
Families alongside the representatives for a Family Day are even a greater festival. With the correct subject and exercises the occasion becomes paramount every one of the individuals from a family.
We organize Corporate Annual Day Event, School Annual Day, Annual Function, Annual Sports Day, Annual Day Function, Annual Day Organizer In Mumbai.
Connect with us
Phone no: +91 9987082088 | Email: martin@lighthouseworld.co.in